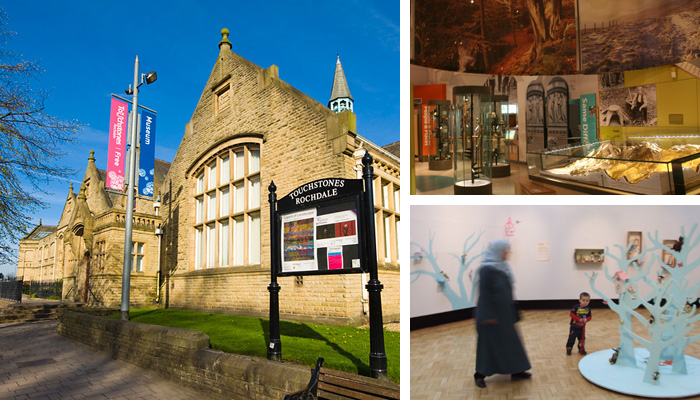 Touchstones Rochdale is the borough's exciting Arts and Heritage Centre which celebrated its 10th anniversary in 2012. Originally opened as a public library in 1884 with the addition of an art gallery in 1903, Touchstones Rochdale has something for everyone with a busy changing programme of exhibitions and events.
Touchstones Rochdale brings together:
Museum – find out all about Rochdale borough's heritage from famous faces to the lives of ordinary people.
Art Gallery – see a wide variety of exhibitions in the four gallery spaces including those from the local community, selections from the   borough's impressive art collection and work by contemporary artists.
Heritage Gallery – a space for themed exhibitions from the museum collections
Local Studies Centre – discover the past for yourself first hand through records, photographs and maps of Rochdale
Education Service – lively workshop programme for schools, families, young people and adults
Visitor Information Centre – find out more about local, regional and national attractions
Shop – a range of souvenirs, cards, local crafts, jewellery, books and pocket money gifts for children
Touchstones Rochdale particularly welcomes families and many of the exhibitions and displays involve hands-on elements for younger visitors.