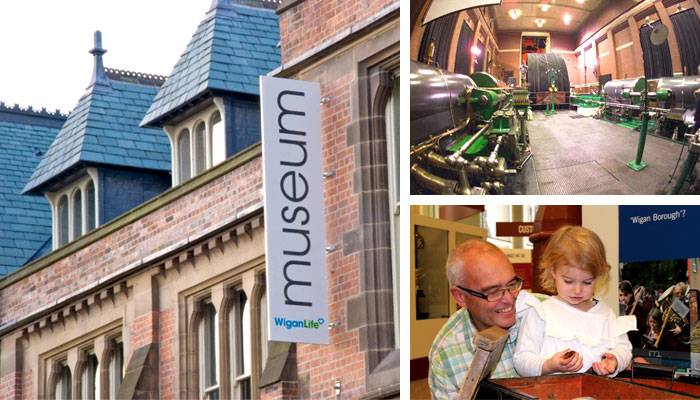 You can find out more about the people and places of Wigan Borough, past and present at the Museum of Wigan Life. Lively displays cover everything from sport to war and pies to festivals. Explore Roman Wigan or dance the night away to Northern Soul with Wigan Casino. Try our special exhibitions and events looking at unique aspects of local history from Rugby League to clog fighting.
The museum is housed in Wigan's first public library and first public building with electric lighting. Alfred Waterhouse designed the building, which opened in 1878. He also designed the Natural History Museum in London and Manchester Town Hall. In 1936 George Orwell researched his book The Road to Wigan Pier in the Reference Library (now Family History and Local Studies) upstairs.
At Trencherfield Mill you can see the Steam Engine, one of the largest and finest working examples of its type. Built over 100 years ago, this mammoth metal powerhouse was regarded as a feat of industrial engineering. Churning out a massive 2,500 horse power to feed the ever hungry machinery of Trencherfield Mill, it played an instrumental role in Wigan's industrial development.